Yours truly has just been added to the 11/23 Scarub show @ the Live Musician's Co-op in Santa Rosa (925 Piner Rd, Santa Rosa, CA 95403.) As you may know, Scarub is a founding member of the Living Legends collective and also belongs to the 3MG's with Eligh and the Grouch. The Legends were probably the first to demonstrate to me the pure freedom and power of doing Hip Hop independently; I remember them rocking a packed venue in Shinjuku, Japan back in 2001. I recall being amazed by the support they received in my home country; in other words, I credit them for giving me part of my blueprint.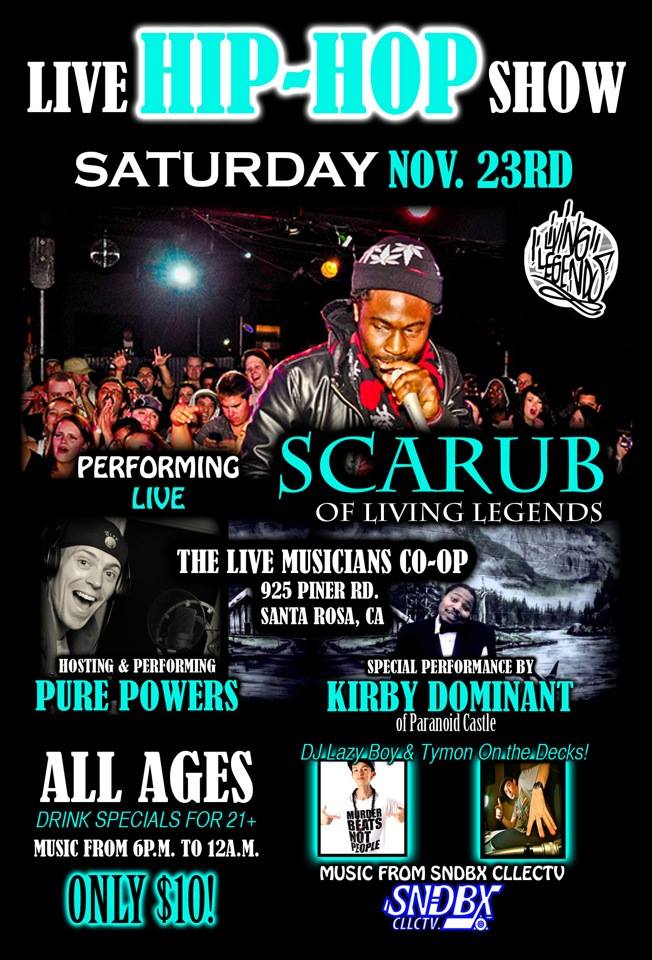 "California Sunrise" by Scarub. Produced by my comrade CAV3.

Kirby Dominant is like every Berkeley MC's kind and funky uncle always surrounded by fine felines. He's now in a group called "Paranoid Castle" with the Canadian producer Factor.

Shout outs to my potna Pure for getting me on the bill. Look up for his upcoming debut album.