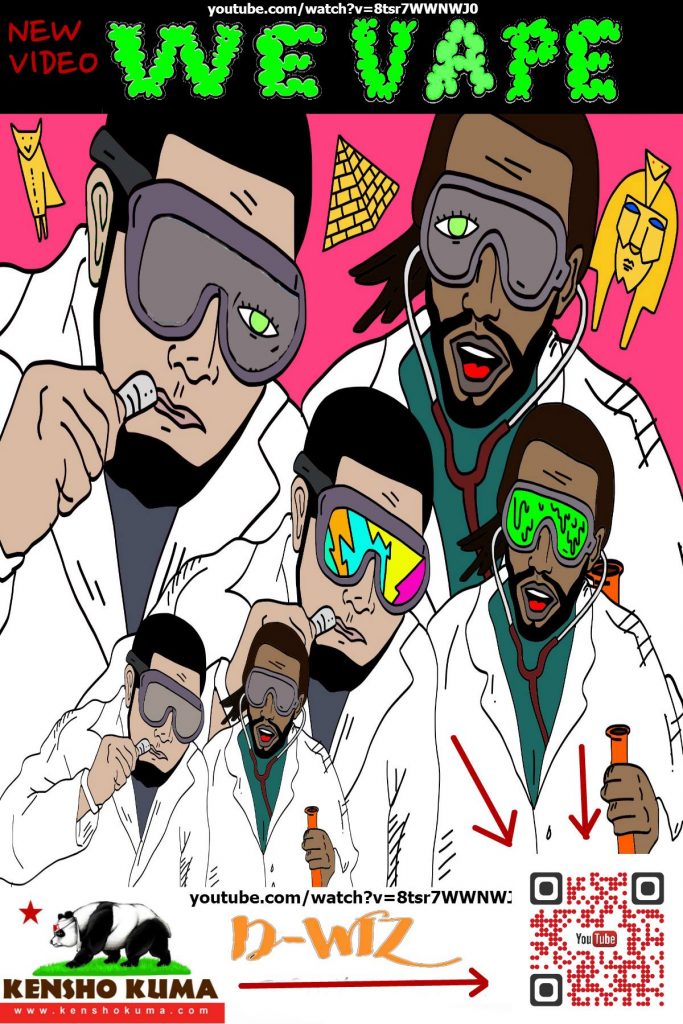 I started smoking cigarettes in late high school, and by my early twenties I was a regular smoker. I tried numerous times using various methods to quit, but unfortunately I never could.. I remember really disliking the feeling of not wanting to smoke, but giving in and lighting one up. Vaping was introduced to me in '11 and I am no longer a smoker. I wholeheartedly believe that electronic cigarettes are a safer alternative to the traditional cigarette, and I consider myself to be in a better physical shape than I was back then. I'm not gonna front, I still have the occasional social cigarette, preferably a Parliament Light, but cigarettes are no longer an addiction I cannot control.
I teamed up with D-Wiz, who is a fellow vapor and my engineer, to bring you "We Vape," a fun, educational, and goofy song about vaping. The production was handled by Brycon, the scratches by DJ S.T.A.T.I.K., the videography by Kev Temple for Bay Biz Films, and the art work by Zyme. The song was released from Oakland's own Drum Dealer Music.
We are currently finalizing our promotional items, which feature 10 mg bottles of coconut flavor and "Alien Blood," (6 mg nic 50% VG 50% PG) supplied by Tasty Vapor in East Oakland. Once the pertinent labels have been placed on the bottles shown in the below picture, the promo campaign will officially begin; please contact me if you know of a business or event that would be interested in receiving these in the SF Bay Area. Also, Gov. Brown signed bills stating that effective 6/9/16 it is unlawful to hand out free samples of nicotine liquid products… So Wiz and I will be hustling to get these out!! Buy the song here.