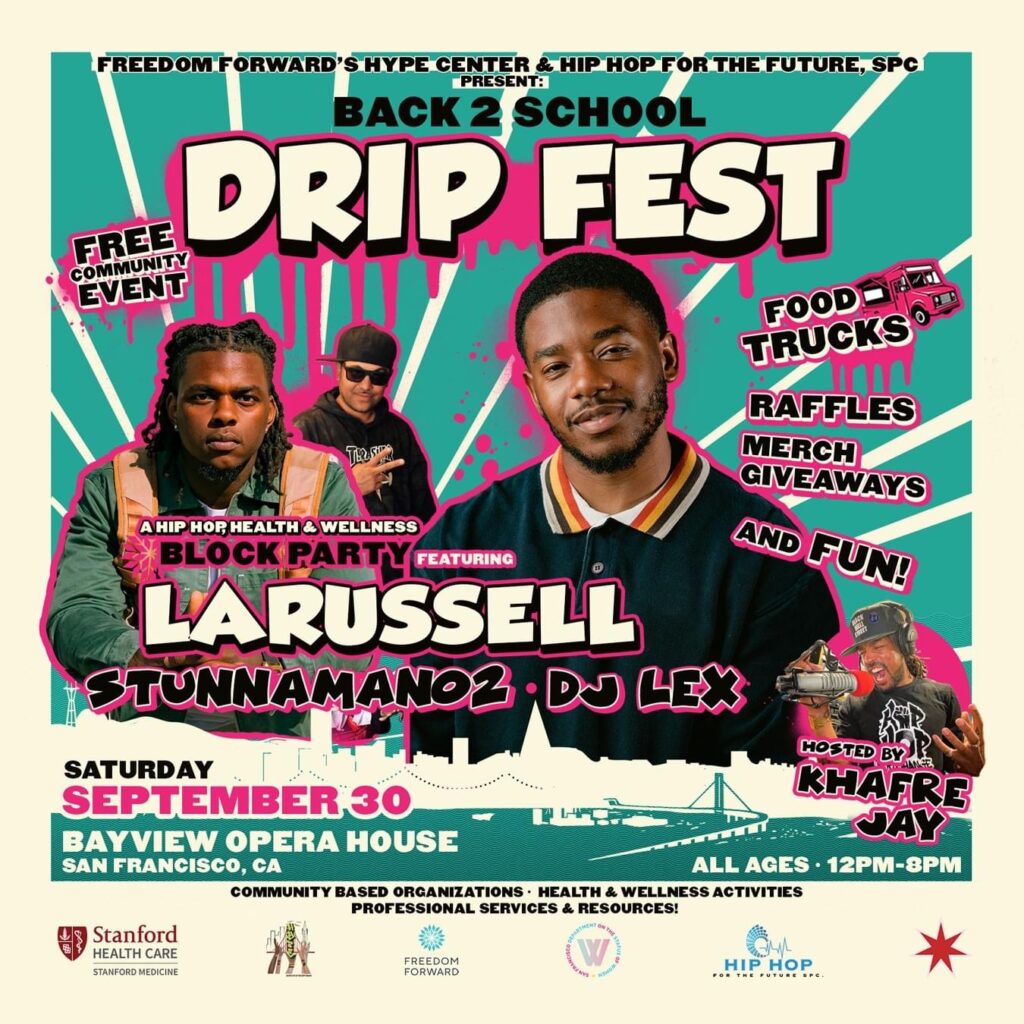 I will be rocking at the Back to School Drip Fest, organized by Khafre Jay's Hip Hop for the Future org, on 09/30/2023, with DJ Lex and headliners La Russell and Stunnaman 02.
About the event
At Hip Hop For The Future SPC. and Freedom Forward, we see philanthropy as more than just a name on a banner. It's about fostering real, tangible change in our community. The Back 2 School Drip Fest, our upcoming event, aims to empower San Francisco's marginalized youth.
We believe that authentic philanthropy is not about levels of giving or the names on banners. True philanthropy is about fostering real change, driving impactful initiatives, and engaging with the community at the grassroots level. It is about stepping up to ensure that those who need the most support are given every opportunity to thrive. It's about the belief that by investing in our youth, we are investing in our future.
We are seeking partners and sponsors – for the Back 2 School Drip Fest. Companies who are ready to stand with us, to stand with our youth, and to stand with our community. Partners who aren't afraid to roll up their sleeves and contribute meaningfully to an event far beyond a single day. Let's move beyond conventional sponsorship. Let's blaze a trail for transformative change together. Join us and participate in this journey toward a brighter future.
Featuring free clothing and footwear, free barbering, haircuts, and styling (because when you look good, you feel good), community resources, health & wellness services, food trucks, and local Hip Hop artists showcasing live music, art & dancing.
JOIN US IN ELEVATING SF YOUTH! HYPE Center & Hip Hop for the Future are seeking support in the following ways:
Health & wellness activities
CPR Classes
Chair Massages Clinic Appointments (Bookings & Referrals)
Mental Health & Alternative Healing Modalities
PROFESSIONAL SERVICES
Barbers & Hair Stylists (Cuts, Braids)
Financial Literacy and Mobility Employment & Workforce Development College,
Trade Schools and Unions
DONATIONS REQUESTED IN 250+ QUANTITIES
Clothing (Jeans/Pants, Hoodies/Sweatshirts, Shirts/Polos, Skirts/Dresses)
Shoes (Athletic, Sneakers, Skate, Boots, Flats)
Accessories (Belts, Hats, Beanies, Purses, Sunglasses, Wallets, Scarfs/Head)
Community-based Organizations – Table at the event for free! Bring your own table, chairs, and shade covers Bring materials, resources, and incentives Promote the BACK 2 SCHOOL DRIP FEST to your community Bring your young people!